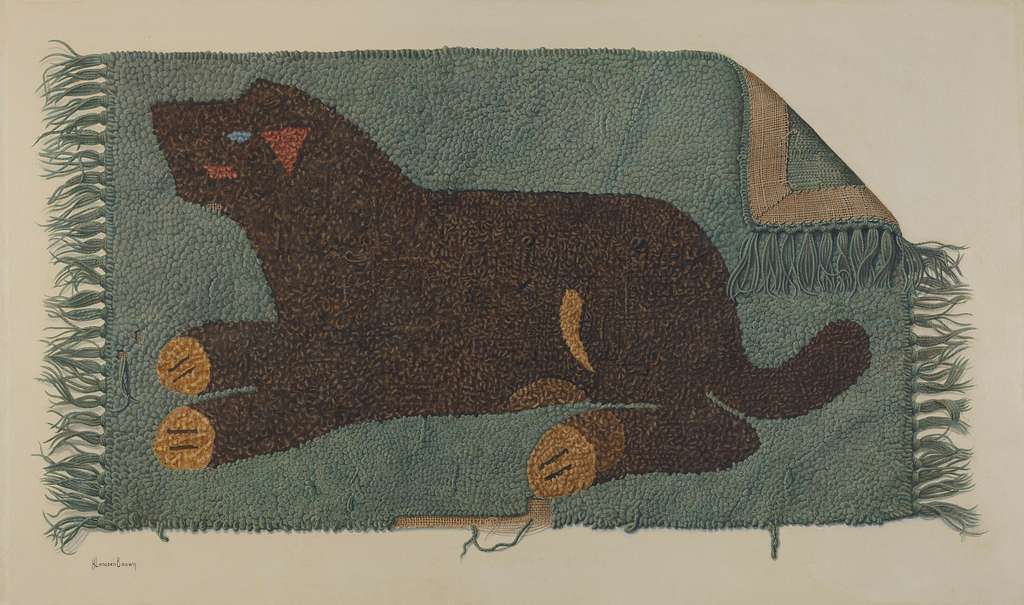 American hooked rugs have a rich history: one of hardship, artistic resilience, and stubborn creativity. Once the product of scarcity and necessity, rug hooking and the resulting handmade rugs have become a piece of iconic American cultural artistry, said to be as American as Jazz music or apple pie.
Latch Hooked Rugs: An American Tradition
Made first in the northeastern United States and New England, and eastern provinces of Canada in the 1840's, latch hooked rugs were constructed using burlap from livestock feed bags or potato sacks, as well as any scrap fabrics that were available, often repurposed from old clothing or drapery, or "thrums" — lengths of yarn approximately nine inches long — discarded at weaving mills. Contrary to common carpet construction in many other antique carpet designs (such as weaving and hand-knotting), hooked rugs are made utilizing a loose-woven, sturdy base fabric and a tool like a crochet hook. This tool — a latch hook — has a hinged pin on its open side, and holds the yarn or fabric scrap in place, allowing it to be pulled through the base canvas. As the craft progressed over time, materials such as hemp, linen, flax, and jute were purposefully integrated into hooked rug construction for added strength and durability, as well as allowing for increased artistic and creative freedoms.
A Story of Artistic Resilience
Throughout the 19th century, Americans found themselves with more time spent in their homes, and more disposable income with which to decorate their homes. Factory-made carpets were introduced to the United States after 1830, but were a luxury only available to the wealthy. In response to high prices, poor households — more specifically, the women of poor households — developed a method for homemade floor coverings that offered new elements of beauty and freedom with interior design. However, viewed as an "imitation" of high class society, latch hooking was largely shunned throughout its artistic infancy, and was considered a "low class" craft.
The first American hooked rugs were likely used primarily for warming the cold floors, and served more as functional wares than decorations. Initial latch hooked rugs were simplistic in design, with disorganized color palettes and no discernible motif due to the limitations of available materials. This type of hooked rug is commonly called a "rag rug."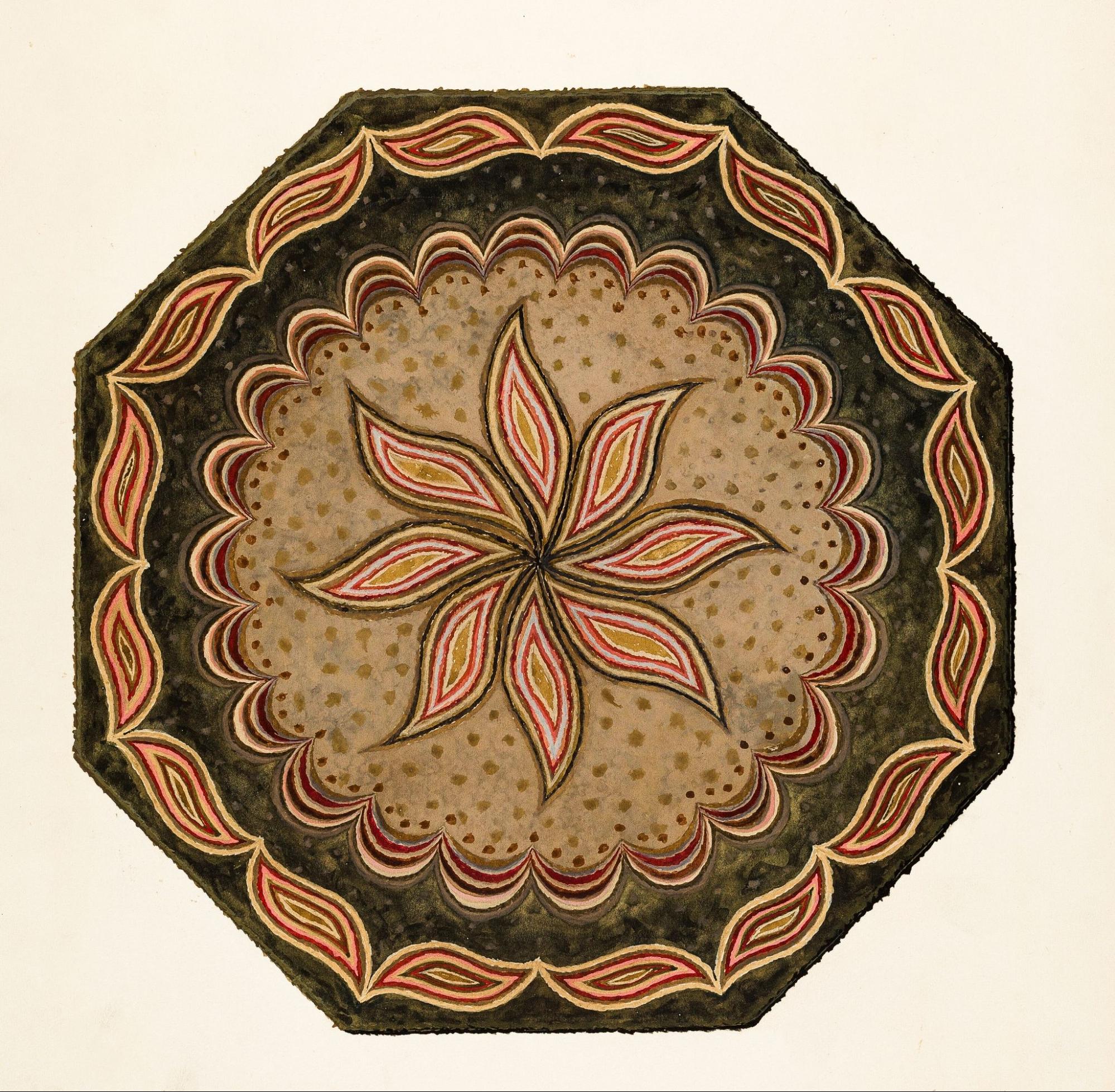 New Possibilities in Artistic Expression
As the artform gained popularity among hobbyists and artisans as well as within localized cottage-industries, its practice slowly spread across the northern United States from the end of the 19th century into the early 20th century. With increasing numbers of new individuals engaging with latch hooking rugs, designs became more experimental and diverse. Materials were further refined, as yarn made from wool or other fibers was cut to uniform lengths to ensure an even pile.
The range of new techniques and expression was vast, including freeform multi-colored rug patterns, organized stripes, concentric circles, and reciprocal squares. From here, artists began experimenting with the inclusion of imagery in their latch hooked designs. This first manifested with pictorial representations of rural life, and imagery important to such rural populations: native plants, important livestock and other animals, pastoral scenes of American homesteads, and even depictions of the artist's own pets and family members.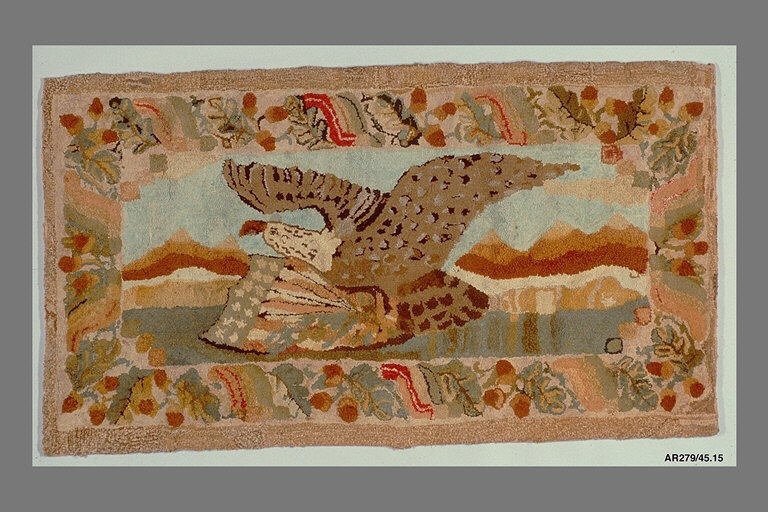 Lasting and Versatile
Hooked rug making remained popular into the 20th century, as an artform as well as a desirable item of home decor. It was in the 1970's that the former floor coverings became increasingly displayed as tapestries on walls. Their small size — generally under 5 feet long — as well as their colorful and whimsical graphics made latch hooked rugs a wonderful wall decoration. This is also partly because genuine antique pieces were made on loose burlap, and were more prone to severe damage when utilized as a floor covering in high traffic areas of the home.
Latch hooking remains a popular artform, and is practiced widely and in a variety of innovative fashions — from rug runners and wall hangings to pillows, ottomans, and bags: all inspired by this lasting vintage American folk art.
Interested in intricate and culture-rich wall decorations or vintage area rugs? Matt Camron Rugs and Tapestries offers a collection of antique hanging tapestries, as well as high-quality Turkish rugs and other Oriental rugs.
You cart is empty. Shop now