Dhurries hail from India where the climate historically necessitated year-round and hyperfunctional use. Dhurrie rugs are lightweight and flat-woven on a horizontal loom from either cotton or wool. They are sturdy and humble rugs, admired for their natural and simplistic nature.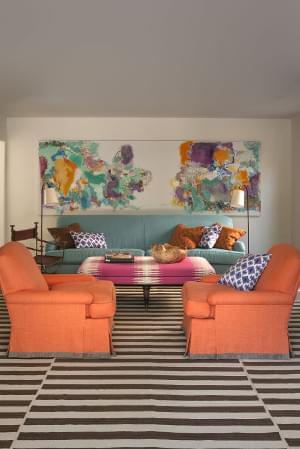 For centuries, dhurries were mostly used as floor coverings; most social interactions of the time took place on the ground. Furthering their range of capabilities, dhurries were also used for protection against heat and cold. They also appealed to both royalty and commoners. Though when woven for a royal setting, metallic threads were often added to dhurries to embellish and adorn otherwise traditional designs.
Dhurries' tight weaves make cleaning the rugs easier and more practical than other rugs. Perhaps most unique about the dhurrie is its lack of backing and the resulting ability to be reversed. The pattern is the same on each side of the rug, save for slight variation in colors.
Interestingly, between 1880 and 1920, dhurries were woven in Indian prisons. These jail-woven dhurries in particular meet the highest standards and design and execution. It is said that this intense focus on weaving in prison led to an overall renaissance of the craft when it was previously in danger of disappearing.
As Britain's influence grew in the 19th century, so did the popularity of European designs. Particularly, Victorian floral patterns. In the mid-20th century, traditional dhurrie motifs, like stripes, gave way to more intricate weaving work. Similarly, a wider variety of vibrant colors became to take the place of the commonly-used blue and red hues. This gave dhurries a more commercial and stylish appeal. The designer dhurrie became a hot commodity when American carpet designer Irwin Carey commissioned famed Indian weaver Shyam Ahuja to manufacture durries for him in the 1960s.
Dhurries usually feature "dovetail joints," which allows the weaver to change colors without breaking the weave.

Easy to maintain, comparatively affordable, and reversible, a dhurrie can be a casual addition to any room, be it modern or traditional.
You cart is empty. Shop now