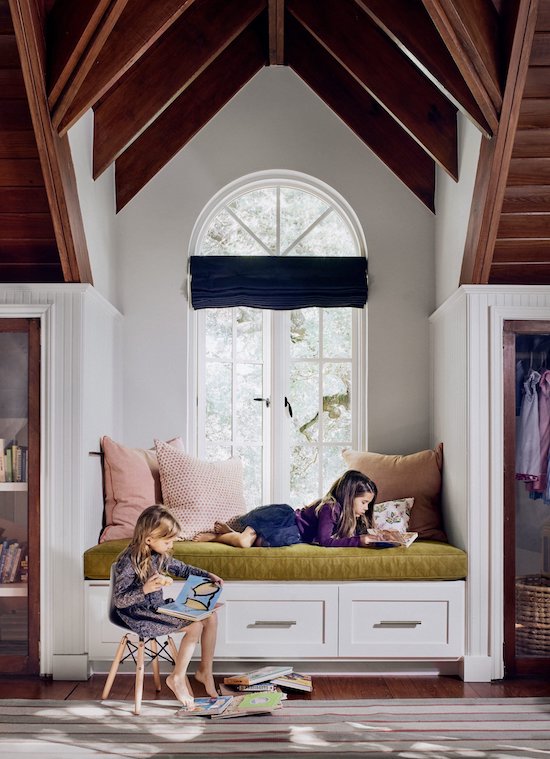 One of the most rewarding parts of our job is finding our rugs in the pages of a glossy magazine or a striking online feature.
We are fortunate to work with talented designers who create spaces worthy of such attention, and we're especially excited about two recent features from this spring.
First up: Meg Lonergan's adds eclectic flair to this stucco cottage, a family's second home in sunny Austin, Texas.
We love how our Moroccan adds texture to this colorful living room space with their unique collection of vintage art and contemporary furnishings.
Perhaps our favorite space of all, this blue and white handwoven flatweave is everything in the girls' bedroom. How amazing is that built-in wardrobe!
Here they are enjoying a cozy nook in the playroom with another one of our flatweaves. Vignettes like this, drenched in natural daylight, make for a pretty picture perfect moment.
Thank you Casey Dunn and Garden & Gun for capturing this getaway so beautifully.
This way to see the rest of the home, which we highly recommend doing!
Next up is a print feature of a Lucas Eilers' home in the latest issue of Southern Home.
Clean lines and classic colorways were the cornerstone of this home's design. The tone is set starting in the entryway with this linen settée atop our bound sisal rug.
The living room embodies the entire home's formal yet functional feel.
We love how our rug adds softness and blends into the master bedroom space as to highlight the breathtaking backyard view.
Be sure to pick up the February x March issue of Southern Home! Thank you to everyone who took part in making both of these features come to life.
You cart is empty. Shop now